EDIT MAIN
Biomedicine Academy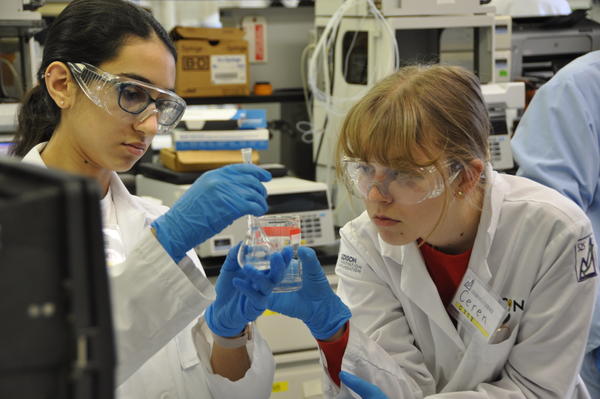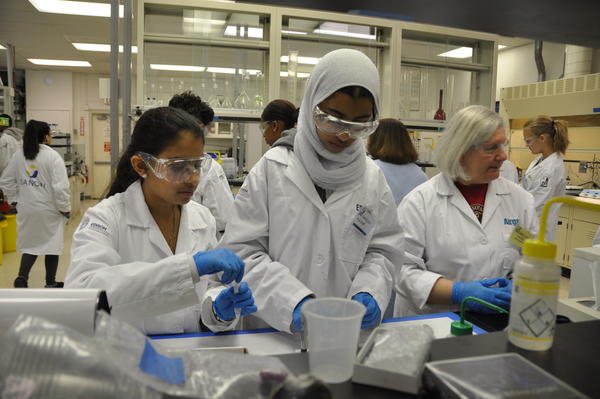 The Biomedicine Academy aims to provide students with a comprehensive overview of the biomedical field and establish the foundation for future career within that realm. Students will engage in project-based learning at all 4 grade levels which integrates "real world" experiences. Collaborative work is encouraged throughout so as to learn transferable skills like critical thinking and communication. The activities and projects encompass concepts such as career exploration, laboratory fundamentals, bioengineering, biotechnology, epidemiology, medical terminology, pharmacology, and bioethics. The BioMedicine teachers collaborate to support the academic success of our students. Our students are poised to make valuable contributions to the fields of both biology and medicine at the end of their 4 years.
Courses Include:
- Fundamentals of BioMedicine (9th Grade)-
This is the first course for our BioMedicine students. In this class students learn the necessary skills and behaviors needed to conduct scientific inquiry. Ninth graders hone skill sets such as working independently at a lab station, in addition to working expeditiously to set up and dismantle their own stations. This helps to prepare 9th graders for the subsequent classes that will focus on biotechnology techniques and research. A key element to this class is the career exploration component, guest speakers from various backgrounds are invited to speak to our students. Past speakers have included doctors, nurses, occupational therapists, and former students pursuing degrees and careers in biomedicine. Field trips to medical establishments also help to expose our students to the biomedicine pathway. In addition, we also explore the bioengineering principles as it is a growing area that is closely aligned to the biomedical professions.
- Biotechnology (10th Grade)-
The objective of the Introduction to Biotechnology course is to train students in basic laboratory skills, thereby enhancing their ability to design research studies that investigate a broad range of topics within the biomedicine field and also non-biomedicine field. The outcome of the course is to equip students to: understand and adhere to basic lab safety requirements, comprehend and perform basic laboratory techniques (i.e. pipetting, making solutions, centrifugation, fundamental laboratory mathematics and data management), and understand the principles of sophisticated laboratory methods such as cell culture, polymerase chain reaction (PCR), psychophysiology (the study of correlations between the mind, behavior, and bodily mechanisms. The class is specifically tailored to students in Biomedicine program and is intended to familiarize them with laboratory techniques they could use in their research projects during their 11th grade course study.
Experimental Design/ Medical Terminology (11th grade)-
Part I: This is part one of the two courses offered to our Biomedicine students in their 3rd year starting in 2020. In this class students will be encouraged to generate their own question that will be the springboard for their research project. These individual projects might utilize some of the laboratory methodology and techniques such as culturing and PCR obtained in the 10th grade. Working with the advice of the instructor students will be able to choose an appropriate design for a specific study. These studies would be particularly aimed at area of interest of the individual students. Scientific reasoning, analyzing data, and communicating results are hallmarks of this course. The overarching goal of this course is to have our students submit their projects for regional, state, and national competitions.
Part II: This is part two of the two courses offered to our BioMedicine students during their 3rd year. The goal of is course is to familiarize our students with medical terms that enables universal communication among biomedical professionals. The use of standardized medical terminology is crucial to ensuring that all persons involved in addressing particular medical situation are doing so efficiently and accurately. Students will gain an understanding of basic elements, rules of building and analyzing medical terms, in addition to key terminology of human anatomy and physiology.
Pharmacology and Law & Medical Ethics (12th grade)-
This course is offered to our BioMedicine students during their 4th year. This course allows students to familiarize themselves with the ethical questions that are pivotal to medicine, law, biology and public policy. This familiarization happens primarily through the art of debate and classroom discussions. Students will read primary sources including essays, court decisions and opinion pieces in order to prepare their arguments. The course also covers the ethical issues that health-care workers face in the workplace and the proper behavior and etiquette that should govern their practice.
The second component of the course is pharmacology. In the pharmacology portion of the course, students learn about the principles underlying drug action and how drugs affect the body. This is done by studying the mechanism of action, general effects, and therapeutic uses for major drug classes (anti-biotics, painkillers, anti-virals, anti-malarials etc.). Students also apply the pharmacological principles to discuss emerging therapeutic strategies and issues.