EDIT MAIN
Medications in School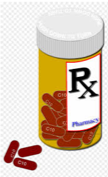 The School Nurse may only administer medications in school with a physician's order and parent permission. This includes over the counter medications such as Tylenol (Acetaminophen) and Advil/Motrin (Ibuprofen). There is Acetaminophen and Ibuprofen in the nurse's office, but again, may only be given with the correct authorization.
If your child will need medication in school, please read below. There are different forms depending on the medication and how it should be administered.
Medications given on an as needed basis. Physician and Parent Medication Authorization Form.
Please click on the link above. This includes pain medication for headaches, cramps, fever, or a prescription for your child's medical condition. Every attempt must be made by the student's parent/guardian to have medication administered at home during non-school hours, such as with antibiotics.
All medication must be received by the school nurse and delivered in the original prescription. Prescription medication must comply with state laws and will need to contain as a minimum the student's name, prescriber, medication name/dose/directions, date of prescription, and additional comments pertinent to storage, administration, or stability (e.g. protect from light, shake well, expiration date).
Over-the-counter medication must be received in the original container with a label having the student's name affixed.
Students with Asthma: ASTHMA TREATMENT PLAN FORM
Please click on the link above. Students are encouraged to carry their own inhalers and use them as needed. Your child's physician must check of "self-administer" on the Asthma Treatment Plan. You may keep a spare inhaler in the nurse's office if you . If your child's physician orders a nebulizer treatment, please supply the nebulizer medication, nebulizer tubing and mouthpiece or mask.
Students with Severe Allergic Reactions: EPI PEN FORM
Please click on the link above. If you child has a severe allergy to anything, including a food or insect bite, please notify the nurse promptly. High School is a perfect time to teach teens how to deal with their health issues, such as severe allergic reactions. I encourage students to carry their own emergency medication and to administer as needed as prescribed by their physician. There are emergency Benadryl and Epi pens in the health office, and are able to be administered by a RN in the event of a severe allergic reaction. Students for whom the parent/physician has determined not able to carry and self administer their Benadryl and/or Epi pen must have a nurse accompany them on all field trips.Please let the nurse know well in advance so a substitute RN can be scheduled for the trip.
Medications for a mild allergic reaction SELF ADMINISTRATION FORM
Please click on the link above. If your child has a mild allergy that does not require an Epi pen, please use the form above.
STUDENTS ARE NOT ALLOWED TO CARRY ANY MEDICATION IN THEIR POCKETS, BACKPACKS, OR LOCKERS, UNLESS A PHYSICIAN'S ORDER IS ON FILE INDICATES THAT THE STUDENT MAY SELF-MEDICATE WITH AN INHALER, BENADRYL, OR EPI-PEN. STUDENTS ARE NEVER ALLOWED TO GIVE ANOTHER STUDENT ANY MEDICATION.