Universal Health Record or Sports Physicals
The Universal Health Record and Sports Physical are both good for one year. If possible, please submit a physical form whenever your child has a physical. It is important that the School Nurse has accurate and up to date health records. The form for Universal Health Record will not be accepted for participation in the High School sports program.
If you child has an annual physical scheduled, please submit one of the above forms to the School Nurse. It is important for the School Nurse to have up to date physicals and immunizations.
Screening programs are designed to provide health appraisals for the identification and management of actual or potential health problems. The screenings include but are not limited to: nursing assessments, vision, hearing, blood pressure, scoliosis, and growth and development. The purpose of the screenings is not to diagnose, but to identify students who may be in need of further evaluation to determine if treatment is necessary. In addition, information may also be required for Child Study and Intervention and Referral Services.
School Nurses are mandated by the State to do the following screenings if no new annual physical (signed and dated by a physician) is received from the parent/guardian prior to screening date. Screenings are performed throughout the year during your child's physical education class. Referrals will be sent to the parent/guardian as needed.
The schedule of screenings by grade are as follows: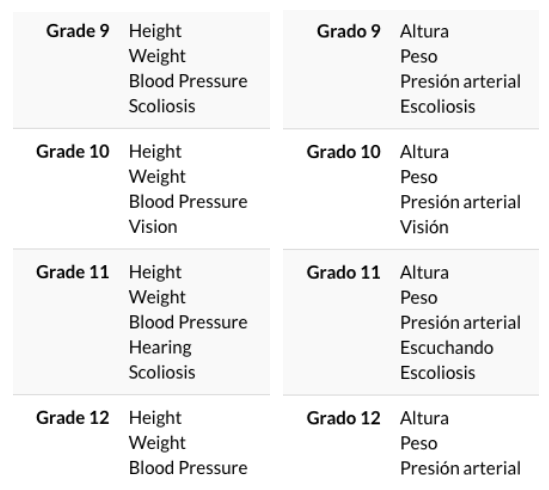 *Parents may elect that their child not have in-school screenings. If you choose not to have your child screened, please send a written letter or email the School Nurse. Scoliosis screening is always done in private so as to ensure the student's privacy. This screening is done in the Nurse's office.